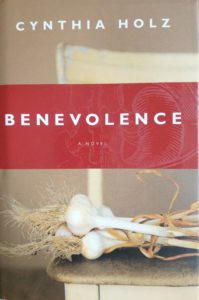 Benevolence
Among "the most fearless and original Canadian work" of 2011. (Edmonton Journal)
"Holz follows in the footsteps of Carol Shields." (The National Post)
Holz is "a master at mining the terrain of coupledom." (The Globe and Mail)
"Benevolence combines a deeply suspenseful plot with characters so vivid that I felt I might meet them at any moment on their way to a streetcar or a bar. Cynthia Holz writes beautifully about the longings and accommodations of middle age, work and trauma, poetry and gardens, and the possibility of altruism. The result is a wise and wonderful novel." (Margot Livesey, author of The Boy in the Field)
Dr. Ben Wasserman, an organ transplant psychiatrist, is having trouble assessing a would-be kidney donor who might be a bona fide altruist. His psychologist wife, Renata Moon, is having her own problems treating a pregnant client whose husband died in a train crash. Tensions in Ben and Renata's marriage are already running high when Ben's widowed mother Molly takes in a boarder, a man from her past whose secrets will complicate the family dynamics even more.
Benevolence asks some unsettling questions, makes surprising connections and allows room for unexpected, magical solutions.
A GOOD MAN
"Fresh and dynamic." (The Calgary Herald)
"Holz should be congratulated on tackling complex questions in a seemingly effortless manner." (The Vancouver Sun)
"A clear-eyed, passionate examination of heroes, victims, villains, and survivors… A Good Man shines with wisdom and extraordinary insight into the human heart." (Eliza Clark, author of Bite the Stars)
"Izzy Schneider, I know you forever from this novel. I hear your voice in my dreams, listen to your urgent stories, cringe at your need to be adored, and most of all I love your heartbreaking ordinariness in a world that is anything but." (Ann Ireland, author of Exile)
When his best friend is murdered, Izzy Schneider recollects their complex and rivalrous long-standing relationship. Both Izzy and Phil Lewis were young men in Nazi-controlled Europe, but Izzy escaped, leaving behind his family, while Phil stayed to fight and become a war hero. Years later, Izzy ends up working for Phil in Toronto, where his daughter Eva, tangled in the legacy of Phil's heroic life and Izzy's shame, tries to conceal a love affair that threatens to tear both families apart.
A Good Man explores the burden of history and tells a potent story of friendship and family, loss and regret, and how tragedy can change everything.
SEMI-DETACHED
"It's Holz's generosity and tenderness toward her all-too-fallible characters that distinguishes Semi-detached." (The Toronto Star)
"An unconventional take on middle-aged marriage." (The Guardian)
Holz "has a powerfully good time teasing her readers, and dangles her characters in their dilemmas mercilessly." (The Globe and Mail)
"A humorous and touching novel. Semi-detached is essential reading." (University of Toronto Bookstore Review)
When Barbara and Elliot Rifkin agree to lead semi-separate lives and divide their home into two apartments, little do they know what emotional and material consequences they are about to reap. The rest of the clan—grandmother, son and daughter and their respective families—are appalled, while friends raise eyebrows and assume it all has to do with extramarital sex.
But Barbara and Elliot are determined to enjoy their new-found independence and live unencumbered by family and domestic duties. When the costs of that freedom prove to be too high, a series of events lead to an inspired denouement in Semi-detached, very much a tale for our times.
the other side
"Subtle and fascinating." (The Toronto Star)
"Funny, insightful, satisfying." (Now)
The Other Side "showcases Holz's cunning at drawing us in with comedy and keeping us there with dynamic, fully realized characters who travel down the rocky road toward human connection, happiness and success." (The Globe and Mail)
Holly, an actor and housecleaner, is devastated when her gay roommate Marc commits suicide. But even before the body is cold, Marc's ghost takes up residence in their kitchen.
What follows is a sensitive and witty exploration of the lives of two lost souls. Even as Holly contends with her married lover and aging father, she is finding out more than she ever wanted to know about Marc. Catapulted into a confrontation with her own personal ghosts, she learns where her power truly lies.
ONLYVILLE
"A spare, polished, luminescent novel." (Quill & Quire)
"A rich, poetic work of literature." (The Kingston Whig-Standard)
"Funny, moving, highly satisfying." (The Globe and Mail)
"To anyone contemplating writing a novel about family, modern life and how social and political movements shape destinies: Read and cherish Onlyville. And readers, be grateful for Cynthia Holz, who has the gift." (The Ottawa Citizen)
When Anna Berman leaves her boyfriend Sal in 1974 and heads for a cottage on an island in the Atlantic, she expects solitude, time to think, and to sort out her life. But uninvited guests descend—first Sal, then her teenage niece with a flower-power friend in tow, and finally her father's runaway girlfriend. Once again Anna is drawn into a tumult of precarious relationships, drowning in the needs and desires of others.
Onlyville illuminates Anna's struggle for autonomy and insight. With wit and wisdom, Holz tells a poignant story of love, loss and discovery.
HOME AGAIN
"So good that you can't get enough." (The Kingston Whig-Standard)
"Haunting, subtle and wise." (The Globe and Mail)
"Humorous and heartbreaking by turns, her visions of love in the modern world are perfectly focused and immensely readable." (The Ottawa Citizen)
"Here's a writer who understands a whole bunch of things." (Peter Gzowski, CBC Radio)

Home Again presents a rich vision of relationships among family, friends and strangers, of passion and marriage, loss and rediscovery. At heart these ten stories are about love, the way it is nurtured and protected, as well as stifled. With grace and sympathy, Cynthia Holz offers each of us a mirror, making us part of her characters' lives in this luminous collection.